Hey people! Thanks for stopping by!
Today's post is all about nails! As you all know that how much I love doing nail art but only creating new nail art designs are not enough. It is very important to take very good care of my nails. So I jotted down 10 tips which I learnt from my experience so that you can keep your nails healthy. Without wasting much of your time, let's jump on to the tips.
File your nails every week: Firstly you must file your nails once a week. By doing this, you have updated nails every week with smoothness. You don't want your nails to look uneven and filing plays an important role. You just need 5 minutes from your routine to file your nails and that too just once in a week.
Manicure once in 2 weeks: Secondly, manicure! Manicure helps growing your nails in a healthy way and nourished too. And for this you don't need to visit salon and waste thousands of money and your energy too. You get very reasonable manicure kits in the market which can be used easily at home.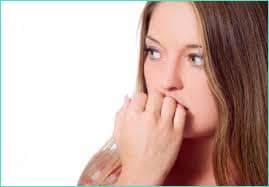 Don't bite your nails or skin around your cuticles: I used to bite my nails a lot when I was a small kid. But as soon as I entered college, I quit biting my nails. Biting your nails and skin around your cuticles can lead to many skin related problems, infections and fungus. This is really a bad habit and if you bite your nails; please quit this awful habit here and now.
Intervals in applying nail polishes: If you are a true nail art/ nail polish lover then you must take care of this fact; keep intervals in applying nail polishes. If you apply light/ nude shades then next time you can apply nude or any dark shade. But always remember if you apply any dark shade then keep an interval of at least 2 weeks to apply another dark shade. If you'll apply dark shades on daily basis, it can ruin your nails. This can make your nails yellow!
Base coat & top coat: I have in many nail art salons that they never apply base coat which is completely wrong. Base and top coats are the main ingredients when it comes to nails. These provide you a good manicure which lasts for very long. Make sure you always apply base coat and top coat.
Cuticle oil: Now we come to a section which is called 'nail care'. Caring for your nails and cuticles is must. Cuticle oil is one product which helps fighting many skin related problems. Using cuticle oil will make your cuticles healthy and nourished. Plus it also helps growing your nails in a very positive manner. You can find many cuticle oils online and these work wonders.
Hand creams: Another product is essential to use when it comes to nail care; it is hand cream. Hand creams helps to keep your nails, cuticles and hands healthy and moisturized all day long. I just love using hand creams and always recommend others too.
No artificial nails: Nail art is becoming really popular in India day by day and so is the trend of using artificial nails. But I strongly believe that artificial nails should not be used. These damage your nail bed and stop the growth of your natural nails. If you have short nails, doesn't matter! You can still play with beautiful nail art designs. Nail arts on shorter nails looks super cute.
Nail polish/ art removers: Always use Vitamin E rich nail polish removers. You must use acetone free nail polish removers because it doesn't damage your natural nails. And if the nail polish remover is rich in Vitamin E, then your nails are getting good food for their health.
Diet: Diet is also very important when it comes to keep your nails healthy and beautiful. Try to include foods which are rich in Vitamin A, Vitamin E, Omega 3 fatty acids, proteins etc and minerals. You can eat foods like carrot, mangoes (yummy), egg yolks, seafood, nuts, etc.
I really hope you enjoyed reading this post. Do leave your views and tips (if you have) in the comments below.
As always thank you so much for taking out time and reading my blog.
Always keep smiling, it makes you look beautiful!
Disclaimer: All images are taken from GOOGLE except the featured one.